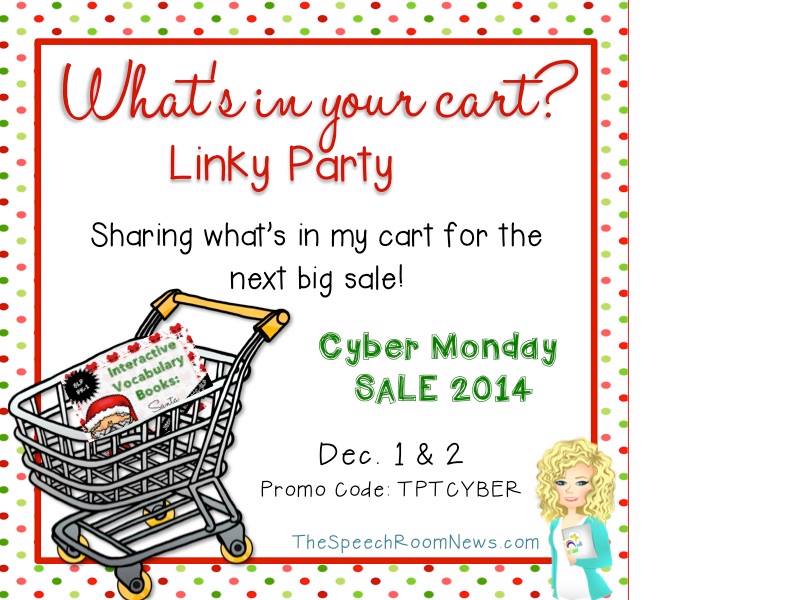 Wow, another reason to shop! I love it!
There is a TPT Cyber sale on Dec 1 & 2. I am linking up with The Speech Room News and holding a linky party to show what is in my cart for the next TPT sale!
In my store are the following products:
The Old Lady Who Swallowed a fly Literacy Plan

Activities include:
Individual and Group Activities
Individual Work:
Home reader
Beginning sounds work sheet
Printing practice
Write down the Beginning sound
Put the animals in ABC order
Label and describe each animal
Writing prompts- If I were a….

Group work:
Rhyming Center activity
Rhyming Group activity
2 Sequencing Activities- 1 for your bulletin board, and 1 Velcro activity
Same/Different Activity
Classroom Posters
Use this book written in the Brown Bear format to teach vocabulary and the items that are found during winter. Included are printing practice sheets, prompts for writing about winter and identifying beginning sounds.
Activities included:
Definitions of each word- page 3-7
Choose the correct picture to match the sentence-page 8-17
Write your own explanation of the word-page 18-22
Write your own sentence using the word- page 23-27
Printing practice page 28
Define in your own words- page 29
Quiz- page 30-31
Game/activity- page 33-34- note this activity has some extra words that were not included in the rest of the package.
Let me show you what I've got my eye on!
Thanks Jenna for hosting the party!