Recently some SLP's collaborated and Activity Tailor and Spe

ech Room News

put out an eBook for Christmas. I went through it and I wanted to post some of my favorite freebies from that book!
Thank you Activity Tailor!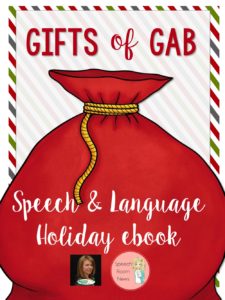 1. I love this handout!! I have used it at some of my schools and plan to put it in all the staff rooms! Many of the teachers are unaware of speech, language, the difference between them and all of the "speechy" terms. It is such an colorful, reader friendly way to explain speech terminology! Thank you Beautiful Life Speech!
2.Marisha McGrorty made these cute stickers! They are so cute and I plan on getting a few more, so great for the little guys! Who doesn't love sticker! Great idea! :)
3. Last but certainly not least, Alberta Speech made this cute sport sort!I may be partial to her work since she is a fellow Albertan, but this activity is a great freebie! It is a very clear and cute a

ctivity

and it has luging on it!!Love it!
What were your favorites from the Gift of Gab! Thank you to all the SLP's who contributed!
Merry Christmas,
Mindy