Today I am posting on sharing some of my favourite Phonemic Awareness Activities.
I like this one because it has activities and worksheets both! The packet includes the 5 levels of Phonemic Awareness, a Phonemic Awareness Student Inventory, and 3-5 hands on, FUN activities for each level of Phonemic Awareness.
Thank you Ashley Reed.
An example of
Segmenting Sounds from Phonemic Awareness Fun.
I took some of my resources and laminated them, found some blocks and there you are! A cheap, colorless activity to help my kids with their reading and phono skills!
Sensational Sounds by Class of Kinders
! Here is a quick, cheap activity! I use this one as a homework sheet because it is easy enough for parents (sorry Mom and Dads) to help kids with. Let's face it, Mom and Dad don't always know how to teach things, or even how to help, some of the tougher concepts of Phonemic Awareness. This is very cheap and you can laminate and use it as a center or (like I do) as a homework sheet for extra practice.
Here is Help Me Sound It Out
by Kristen Smith that is great for hands on and centers. There are center ideas
as well as worksheets that include listening for sounds, rhyming, beginning sounds and so much more.
It is all laid out clearly and easy to use! Plus there are super cute clip art!
So Great!! Thank you Kristen!
Segmenting
Sometimes the skill that kids have the most trouble with is segmenting and if that is what your kids need here is a great buy. This activity just focuses on segmenting!
DP Sharpe
made this and I have printed it off for teachers for extra practice in their class rooms. If printer ink is like gold with you, you can print them in black and white and laminate them onto colored paper to make them prettier! I have also sent them for homework sheets for extra practice. Great extra practice activity!
This is another activity that is extra practice for segmenting. Keep it Captivating suggests that you put this pack in page protectors (saves laminating) and put it in a binder which is a really quick and easy to set it up! I love this one because it is organized into 2, 3 and 4 sounds! SO easy!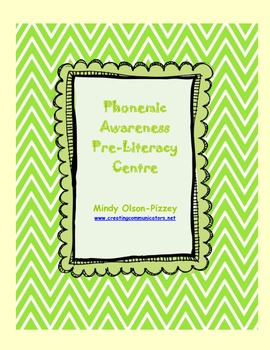 And last but not least are my humble little packs that I have made.
Phonemic Awareness Pre-Literacy Pack!
Do you need center activities that are child lead?
Here are some activities that you can play in small groups, one on one, or use as centers. They focus on all pre-reading skills like identifying the beginning sounds, and identifying each sound in words.
A great addition to any classroom!
I have put it on sale for only $1 for November so check it out!


Monster Truck Sorting Diagraphs
The other trouble some of the kids have are diagraphs so
I made an activity that just focuses on those sounds- sh, ch, and th. This is a center activity that the kids place the word either at the beginning or ending of the truck differentiate where they hear the sound. The boys really love this one!
Again, I made it only $1 for November.