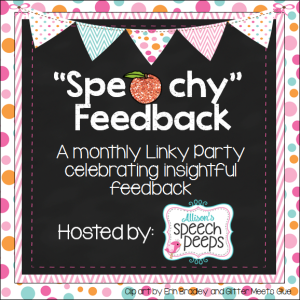 It's time for some S...peachy Feedback! I love this linky party! It rewards people who leave informative feedback, and also gets the word out on speech resources that we may have missed.
A buyer said
"Great repetitive story, and a nice way to target camping vocabulary. This will fit in perfectly with my camping theme!"
on July 27, 2014
If you bought this email me with your user name and I will send you a free product from my store!
Check it out in my TPT Store, follow me and leave me some feedback. I really appreciate it!
Thanks Nicole for the linky party and for all of you who have taken time to leave me some feedback! I am not perfect but I really try to look at my feedback and improve as much as I can!
www.creatingcommunicators.net
Cheers,
Mindy!